Senior Mechanical Engineer
Senior Mechanical Engineer
C-Job Naval Architects
Athens (Greece) +
What is required?
HBO/WO or equivalent experience in mechanical engineering and marine technology
A minimum of five years relevant working experience in mechanical engineering and marine technology
Resilient and analytically minded
Optimistic, energetic, and social personality
Pragmatic, structured, and accurate way of working
Ability to create 2D or 3D technical drawings and system schemas and Experience with retrofitting
Excellent analytical and problem-solving skills and ability to work with deadlines
Excellent communication skills in English, both written, and verbal. Dutch language skills are a bonus
Prepared to train / coach junior / medior peers
What will you get?
40 hours working week
25 days of leave per year plus 13 days ADV based on full time employment
Professional development opportunities
Hybrid working options
Company laptop
Discount on company fitness in the Netherlands
Health Insurance Greece
International working environment with colleagues across five countries
Frequently company organized trips, drinks, and festivities
What will you do?
40% Engineering and finding technical solutions
20% Supporting fellow engineers with questions and/or problems
15% Performing administration, quality controls and internal checks
15% Communication with clients and stakeholders
10% Meetings with project teams
This vacancy has been created based on interviews with employees to help you get a realistic preview of the job.
Vacancy
As a Senior Mechanical Engineer at C-Job Naval Architects, you are responsible for the design and integration of technical systems onboard ships or other floating structures. These systems pertain to propulsion, energy supply, and those required for the crew and passengers, such as potable and waste water provisions, and ventilation, AC, and/or heating. Your daily challenge is to ensure regulations and client requirements seamlessly integrate into a well-functioning, efficient ship design.
You use your professional maturity and years of experience to actively participate in internal and external project kick-offs. Leveraging a range of software programs, you design, develop, and test technical solutions. You create 2D or 3D technical drawings and system diagrams, which are supported and verified through your calculations.
As a senior engineer, you are expected to mentor, coach, and educate less experienced engineers, ensuring their work meets high-quality standards before it's sent to the client. You also support the lead engineer in managing client and stakeholder expectations at a technical level and communicate engineering choices with other disciplines within the project. Depending on the size of a project, you also have direct contact with the client.
Joining the mechanical department, you'll collaborate with a multifaceted team whose size and structure adapt to project needs. Your joint efforts span various projects across offshore, yacht construction, and dredging sectors. This role offers an opportunity to work on multiple projects concurrently, each unique in its scope and scale. The global reach of C-Job also means you get to collaborate with colleagues from different offices worldwide.
If you enjoy devising solutions for complex technical issues as part of a team, and you find it challenging to work in an iterative approach, rather creating new solutions, then this job is for you.
Working week
Senior Mechanical Engineer

On an enjoyable day, you and your team have found a solution for a complex technical issue. You are proud and stand behind your idea that can be sent to the client.
On a less enjoyable day, you're stuck in a project that requires constant adjustments. You then lean on your creativity and persist until all stakeholders accept the proposed solution.
08:00

09:00

10:00

11:00

12:00

13:00

14:00

15:00

16:00

17:00

18:00
There is an upcoming client meeting where approval must be given for a solution to a technical challenge. How do you proceed?
As a senior eningeer, your role varies depending on the project's size. You contribute with your team in brainstorming a solution for the technical challenge, aiding in its visualization through sketches or 3D renderings. You collaborate with seniors/leads from other disciplines to ensure the solution's feasibility. For smaller projects, you might directly present the team's collective proposal to the client. However, for larger projects, your team's agreed solution is handed over to the lead engineer or project manager for presentation in the client meeting.
Growth
A senior mechanical engineer is advancing to a role as a lead, an expert, or a project manager. Both 'horizontal' in-depth development as well as 'vertical' development are possible in this progression.
Senior Mechanical Engineer
Lead Mechanical Engineer or Expert
Working at C-Job Naval Architects
C-Job Naval Architects is an independent ship design and engineering company that operates worldwide, boasting a global team of dedicated engineers, R&D consultants, supervisors, and project managers.
At C-Job, they co-create designs with their clients, incorporating their knowledge, skills, innovation, and ingenuity into each design. They have a strong track record of projects in various industries, with a focus on dredging, offshore, passenger vessels, yachts, and commercial vessels for both national and international clients.
Their dedicated Research and Development team consistently seeks new ways to improve and innovate their designs and creation processes, focusing on alternative energy sources, autonomous shipping, and data science.
Dutch headquarters in Hoofddorp

Active in 6 countries

90 employees in The Netherlands

200 employees worldwide

22% / 78%

Average age 36 years

Business casual

Hybrid working is part of the C-Job way of working
Colleagues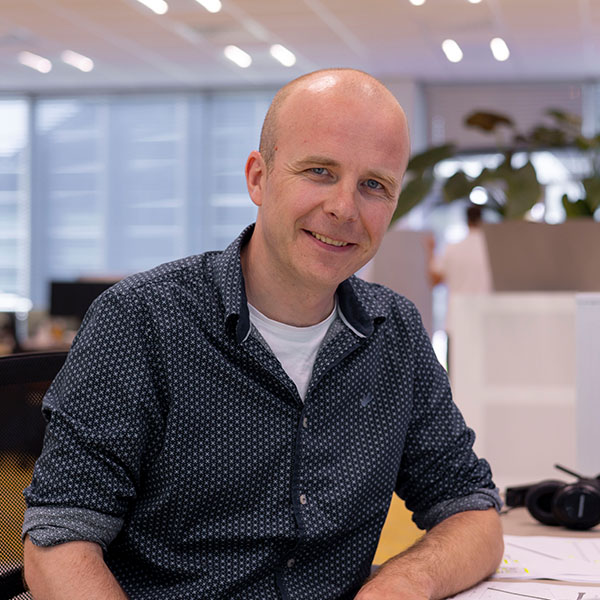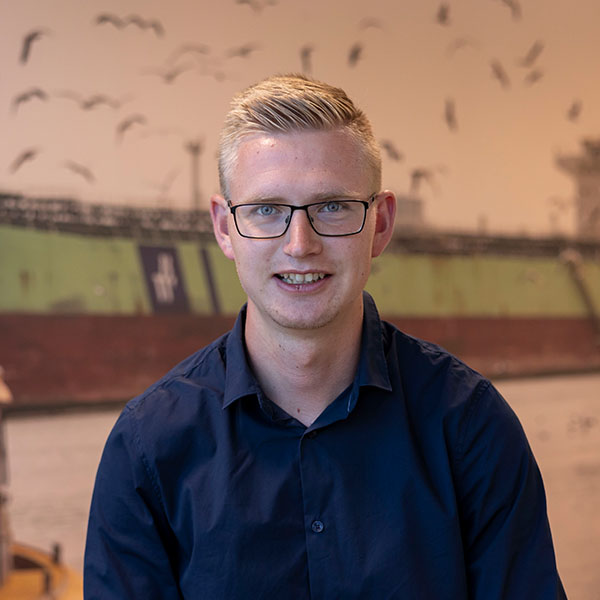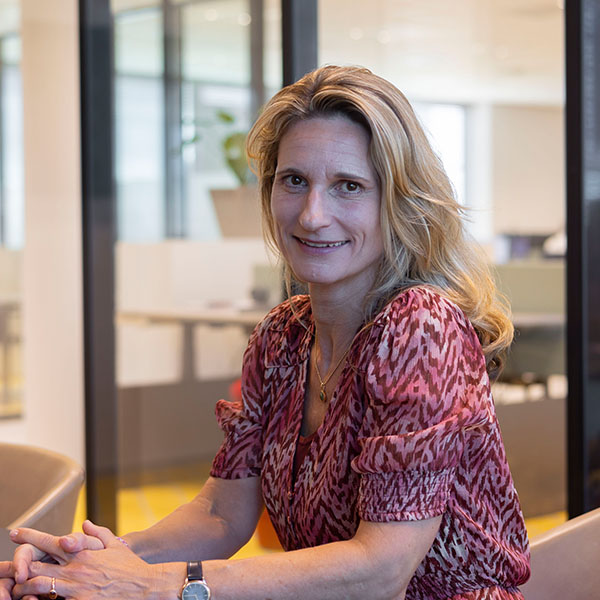 Joep van Liere - Lead Naval Architect
Why did you decide to work for this company?
I was looking for a company with a green ambition where I can design and engineer complicated commercial vessels together with a group of highly motivated people.
What did you study?
Marine Engineering (Hogeschool Haarlem).
What do you do in your spare time?
Sailing, recreational ice hockey.
Jan Sietse de Boer - Junior Naval Architect
Why did you decide to work for this company?
It seemed a nice and open company that does a lot of challenging jobs. The Heerenveen office had a nice team of about 25 employees working closely together and it seemed nice to me to be part of that team. Also a short travel distance did I take into account in my decision.
What was your previous job?
HBO bachelor Marine Engineering.
What do you do in your spare time?
Playing football, sailing with my boat, sharing drinks with my friends and a lot more.
Monique Reulink - HR Business Partner
Why did you decide to work for this company?
A dynamic organization in the process of growth whilst at the same time focusing on the internal organization provided me sufficient interesting challenges to step on board.
What was your previous job?
I fulfilled various HR roles in different types of organizations.
What do you do in your spare time?
Enjoy my family, friends, reading, sports.
Application process
Screening
First interview
Second interview
Optional third meeting in the organisation
Discussing terms of employment proposal