(Senior) Project Manager
(Senior) Project Manager
C-Job Naval Architects
Hoofddorp +
What is required?
HBO/WO or equivalent experience in naval architecture or marine/mechanical engineering
A minimum of five years of experience as project manager for naval architectural or marine engineering projects
Optimistic, energetic, and social personality
Pragmatic, structured, and accurate way of working
Ability to take initiative and work independently
Ability to work with deadlines
Ability to lead and motivate a team
Ability to read and analyse planning and cost sheets
Good commercial/contractual insight
Excellent communication skills in English, both written, and verbal. Dutch language skills are a bonus
What will you get?
40 hours working week
25 days of leave per year plus 13 days ADV based on full time employment
Professional development opportunities
Hybrid working options
Company laptop and mobile phone
Discount on company fitness
Pension allowance in accordance with the Dutch law
International working environment with colleagues across five countries
Frequently company organized trips, drinks, and festivities
What will you do?
20% Establishing and maintaining project planning
20% Directing project teams
20% Internal consultations, including with the operations manager
10% Client consultation and coordination
20% Administration/financial and project reporting
10% Supporting the sales department, e.g., during contract negotiations
This vacancy has been created based on interviews with employees to help you get a realistic preview of the job.
Vacancy
As a (Senior) Project Manager at C-Job Naval Architects, you are responsible for the planning and execution of a variety of engineering projects, aligning with established quality standards, time frames, and budgets. The projects you manage can vary significantly, depending on the type of vessels and specific requirements. This could range from overseeing monodisciplinary projects, such as shipbuilding design or mechanical scope, to leading multidisciplinary projects that involve a concept design, basic engineering or detailed engineering scope or multiple engineering phases combined and require extensive coordination and oversight.
In the sales phase, you'll establish the project scope, schedule, approach, and budget, and assist in contract negotiations. Working with the operations manager, you'll help form the core project team, which is finalized at project commencement. Throughout the project, your primary responsibilities include managing stakeholder expectations, conducting risk analyses, maintaining the project budget and schedule, addressing potential impediments, and implementing change management, with the ultimate goal to deliver the project.. You'll also be accountable for project handover, communication, progress reporting, and final results, ensuring up-to-date project planning and successful closure.
Your role may also involve participation in sustainable Research & Development projects. These projects could encompass initiatives aimed at exploring new form factors, advancing the use of alternative, eco-friendly fuels, and promoting electric propulsion systems. This aspect allows you to contribute directly to a greener maritime industry.
As part of your role, you will collaborate with the operations manager to form and be part of one or more dedicated project teams. Your teams, each unique in its composition and size based on project requirements, will tackle a broad spectrum of projects in the offshore, yacht construction, and dredging sectors. The global reach of C-Job also means you get to collaborate with clients, subcontractors and colleagues from different offices worldwide.
If you enjoy solving both technical and commercial issues as part of a team, and you find it challenging to continuously provide structure to both a team and a client throughout a project, all while communicating in a clear and diplomatic manner, then this is the job for you.
Working week
(Senior) Project Manager

On an enjoyable day, you'll be challenged to solve a problem within a project, in collaboration with the right stakeholders. The issues you'll encounter are both technical and commercial in nature, which makes your work very varied.
During a less enjoyable day, a project might not proceed as planned or the desired quality isn't achieved. In these instances, your responsibility is to identify the issue promptly and motivate the team to turn the project into a success.
08:00

09:00

10:00

11:00

12:00

13:00

14:00

15:00

16:00

17:00

18:00
A client has a request that falls outside the contractual scope and agreements. What do you do?
When a client has a request that falls outside of the agreed contractual scope, your initial responsibility is to identify this deviation. Employing a blend of commercial insight and technical understanding, you'll appraise the request's significance and decide on the next steps. This might involve formulating additional work proposals and assignments, using the appropriate expertise from within or outside your project team. The goal is to seize commercial opportunities while providing the client with valuable, technically informed advice.
Growth
A project manager is advancing to a role as a senior project manager in which you also become responsible for coordinating the work of other project managers within the project team. Overall, both 'horizontal' in-depth development as well as 'vertical' development are possible in this progression.
Working at C-Job Naval Architects
C-Job Naval Architects is an independent ship design and engineering company that operates worldwide, boasting a global team of dedicated engineers, R&D consultants, supervisors, and project managers.
At C-Job, they co-create designs with their clients, incorporating their knowledge, skills, innovation, and ingenuity into each design. They have a strong track record of projects in various industries, with a focus on dredging, offshore, passenger vessels, yachts, and commercial vessels for both national and international clients.
Their dedicated Research and Development team consistently seeks new ways to improve and innovate their designs and creation processes, focusing on alternative energy sources, autonomous shipping, and data science.
Dutch headquarters in Hoofddorp

Active in 6 countries

90 employees in The Netherlands

200 employees worldwide

22% / 78%

Average age 36 years

Business casual

Hybrid working is part of the C-Job way of working
Colleagues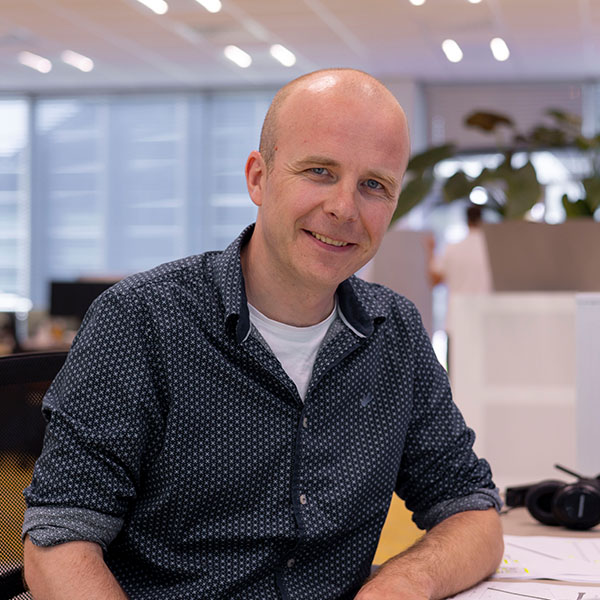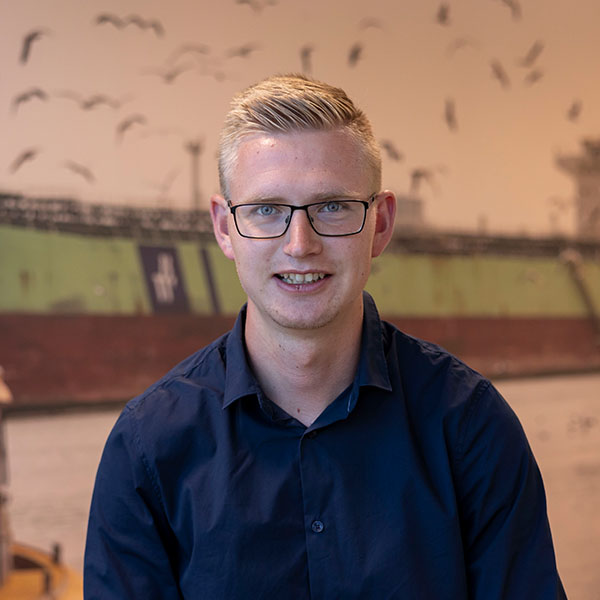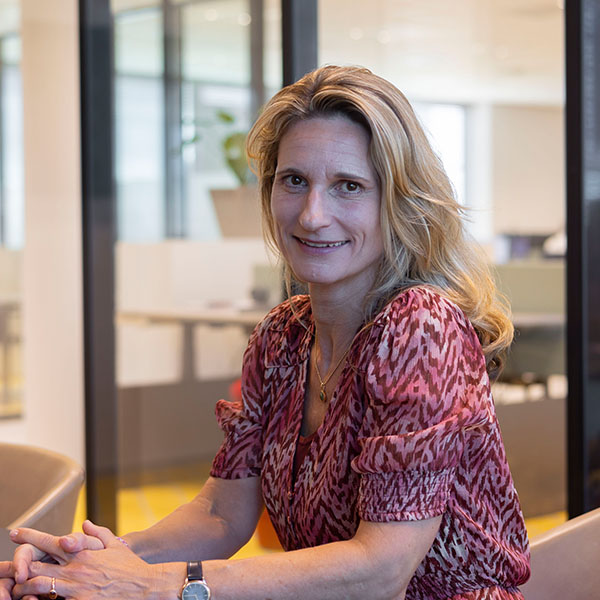 Joep van Liere - Lead Naval Architect
Why did you decide to work for this company?
I was looking for a company with a green ambition where I can design and engineer complicated commercial vessels together with a group of highly motivated people.
What did you study?
Marine Engineering (Hogeschool Haarlem).
What do you do in your spare time?
Sailing, recreational ice hockey.
Jan Sietse de Boer - Junior Naval Architect
Why did you decide to work for this company?
It seemed a nice and open company that does a lot of challenging jobs. The Heerenveen office had a nice team of about 25 employees working closely together and it seemed nice to me to be part of that team. Also a short travel distance did I take into account in my decision.
What was your previous job?
HBO bachelor Marine Engineering.
What do you do in your spare time?
Playing football, sailing with my boat, sharing drinks with my friends and a lot more.
Monique Reulink - HR Business Partner
Why did you decide to work for this company?
A dynamic organization in the process of growth whilst at the same time focusing on the internal organization provided me sufficient interesting challenges to step on board.
What was your previous job?
I fulfilled various HR roles in different types of organizations.
What do you do in your spare time?
Enjoy my family, friends, reading, sports.
Application process
Screening
First interview
Second interview
Optional third meeting in the organisation
Discussing terms of employment proposal